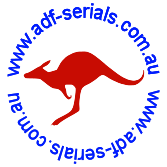 ADF-SERIALS
Australian & New Zealand Military Aircraft Serials & History
AFC Curtiss Jenny
1,2 & 3 Sqns, AFC
Aircraft Serial
Type
Aircraft History

1907

2 Sqn, AFC.

7308

JN-3

ex RNAS,
To 17 Sqn, RFC,
05/06/1916 To "C" Flight 1 Sqn, AFC,
13/06/1916 To Aircraft Park.

7311

JN-3

ex RNAS,
To 14 Sqn, RFC,
04/06/1916 To "C" Flight 1 Sqn, AFC,
13/06/1916 To Aircraft Park.
B1911
JN

-

4/4a
Served with 3 Sqn AFC.
This aircraft was built to an admiralty contract but delivered to the RFC before taken on charge by 3 Sqn.
Two Curtiss Jenny aircraft were ordered in January 1916 for Central Flying School at Point Cook.
The order was cancelled on 17th June 1916 in favour of purchasing Maurice Farman Longhorns
Other Jenny's are known to have served in 3 Sqn and possibly other AFC units too - but the details are sketchy.
The Authors of this page are Brendan Cowan & Mark Lax
Sources: Australian Military Aircraft 1909-1918, Keith Isaacs, AWM, Men & Machines of the Australian Flying Corps 1914-1919, Charles Schaedel, High Adventure, A.H.Cobby, British Military Aircraft Serials 1911-1979, Bruce Robertson.
Emails: Mark Lax, Roland Jahne
Updated 29th March 2016
It is our policy to only show historical events, no current operational information will be displayed on this website.
"The ADF-Serials team give permission to use the content of this page, excluding images, providing that it contains an acknowledgement to the adf-serials team and any other listed sources."